Leaflets
RMBF overview leaflet (.pdf)
Outline of the support we can offer to doctors, medical students and their families in times of need

Medical Student Programme leaflet (.pdf)
For distribution in medical schools, this leaflet explains the RMBF's work and encourages students to seek help
Posters
Our posters can help spread the word of the support we offer in your medical workplace or school. Download and print, or order copies via email below. We hope to add more designs to our range soon.
Posters for doctors
Health & wellbeing support and financial assistance for doctors (.pdf)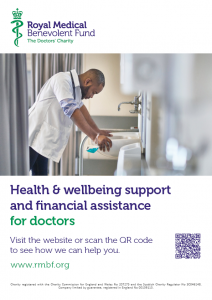 Posters for medical students
More worried about finances than about finals? (.pdf)
Guides
The Vital Signs
Our series of guides on dealing with stress and pressure, includes specialist advice for GPs and medical students
Newsletters
Our postal newsletter is very popular with supporters, and we're always happy to report on your fundraising and awareness-raising activities, so do get in touch if you'd like to be featured!
Latest issue (.pdf download)
Recent Past issues (all .pdf downloads)
Promotional items

We offer a range of fun and practical RMBF branded promotional items, ideal for conference packs and fundraising activities. These include:
Stress balls (pictured)
Pens
Sticky notes
Lanyards
Collection tins
Mini-leaflets (business card size)
Request materials
We're happy to supply resources to supporters for doctors' workplaces, medical schools and anywhere else they may be useful. To discuss what's available and request copies, please get in touch with our Fundraising & Communications team:
[email protected] – 020 8540 9194 (option 1)