As part of our new campaign Together for Doctors, we've released a handy fundraising pack to help you get together with friends and colleagues to support doctors in need.
Why not organise a bake sale, a hospital hop, a fun quiz night, or a green & purple day at work? Whatever your activity, let us know and we can provide advice and resources as well as helping to boost your fundraising.
It's easy to download and print, and you can also access all the tips and resources (and more!) here on the RMBF website.
RMBF Fundraising Pack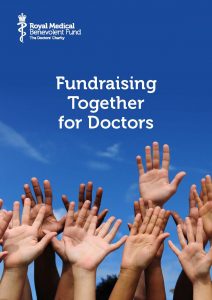 Download the Fundraising Pack (.pdf)
Organising a fundraising event? Get in touch!
You can reach the Fundraising & Communications team on [email protected] or 020 8540 9194 (option 1) – we'd be delighted to discuss how best we can support your event.