In response to the coronavirus pandemic, we've been overwhelmed by the kindness of fundraisers wanting to support the doctors fighting the virus on the frontline. It's been amazing to see the innovative and creative ways people have come up with to raise vital donations for doctors in need. A huge thank you to everyone involved – read on to meet our latest cohort of fundraising stars!
Putting in the miles
Two of our youngest fundraisers have taken up long-distance challenges while staying safe and socially distanced. Shraddha, a student at Mearns Castle High School near Glasgow, laced up her running shoes and ran laps around her home in May to cover a mammoth distance of 100km.
The 16-year-old set a demanding schedule of 300 laps a day around her home, adding up to 12.5km a day for eight days straight. Shraddha initially set a fundraising target of £200, but quickly raced past that total – eventually raising more than £1,600 for doctors in need. An incredible achievement!
Also taking on a long journey while staying safe at home is Melanie, currently studying for her A-levels and hoping to become a doctor. Alongside that, she is also making use of her trusty rowing machine to row the length of the Thames – that's 346km. Melanie is chronicling her journey on Instagram, adding a picture of where she would be on the real Thames at the end of each leg (along with fascinating historical and cultural facts).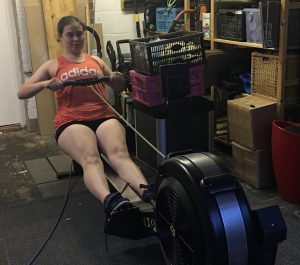 "All of a sudden, I'm schooling from home, my exams are cancelled, everyone is in lockdown and the people in the profession I want to follow are in the front line of a worldwide pandemic," she said. "Rather than just asking for money, I wanted to do something. To challenge myself for them."
Melanie's GoFundMe page is still open, so why not cheer her on with a donation today?
Cooking & quizzing
Shraddha and Melanie both found out about the RMBF through Medic Mentor, who recently teamed up with the charity to create a hardship fund for doctors during the coronavirus pandemic. Two more young fundraisers are also supporting Medic Mentor's fundraising push with fun ideas.
Noah, who is applying this year to study medicine at university, kept local spirits up in Cumbria by cooking and serving fish and chips for his neighbours, from his grandparents' catering van. His grandparents kindly donated the food, so the proceeds of Noah's culinary toil all went to charity. In the end Noah raised a tasty £232!
Quiz nights via Zoom have become a feature of lockdown for many of us. 16-year-old Ashwini, who also wants to become a doctor, used her socially distanced trivia night to support frontline medics in need. Friends and family, including those in India and the US, pitted their wits against Ashwini's questions, including a round about her family's hometown. All in all, the quiz night raised over £300 for the RMBF – very clever!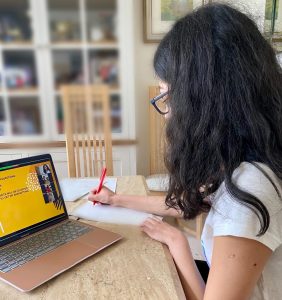 Art for a good cause
Working full-time in London, Katy Hands makes oil paintings in her spare time as a creative outlet. Katy's husband is a paediatrician and has treated patients, both children and adults, affected by Covid-19, so the need to support doctors hits close to home. She's especially concerned with the mental health impact that this crisis will bring, so wanted to use her creativity to support the RMBF.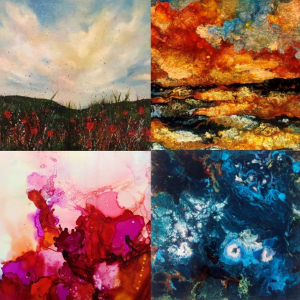 Katy has painted a stunning range of original works in oil, ranging from strikingly colourful abstracts to shrouded, misty landscapes. The beautiful paintings are on sale from her website, with proceeds benefiting the RMBF. This is a great opportunity to brighten up your walls, all in service of a good cause.
Thank you so much to all our fantastic fundraisers – you are all superstars! The proceeds raised are already going towards support for doctors affected by the coronavirus pandemic, and they will help us prepare for the many more who will need our help in future. Your support truly makes a huge difference.
Meet more RMBF fundraising stars