Volunteers' Week takes place from 1-7 June each year. It gives us the chance to thank and celebrate the fantastic contributions that our volunteers make.
Every day across the country, RMBF volunteers are putting up posters, hosting fundraisers, giving talks and ensuring that doctors know where to turn when they need support. It's no exaggeration to say that without our volunteers, we would not be able to help as many doctors as we do. Our volunteers are at the heart of the RMBF – for us, every week is Volunteers' Week.
This year, we wanted to highlight how all of our volunteers are unique, bringing their own skills, interests and personality to the role. That's why we've asked them to share, in their own words, their reasons for volunteering to support doctors in need, and why the RMBF's work matters to them. We couldn't have written anything more heartfelt ourselves!
Meet Charlie Holden
Surgical trainee Charlie Holden has been a volunteer for us since 2019. He raised vital funds for us by joining his friend in a round-the-world cycle ride, and has done incredible work raising awareness about the RMBF in Cardiff. He has even managed to recruit four new volunteers from his talks!
In a Q&A for volunteers week, we asked Charlie what volunteer activities he does and why it is so important:
"I've focused my efforts on raising awareness of the RMBF to junior doctors in my area – specifically, by giving talks to incoming foundation doctors at my trust. That's important to me because as a new doctor you're extremely vulnerable. You may have been thrust into a new region or hospital you've never been to before. If you have a tough experience at work, you have limited experience to fall back on. You're extremely unlikely to have significant financial savings should your circumstances change.
Sometimes, just knowing there's someone who cares about you is all the support you need. Colleagues who reach out to the RMBF will find an engaged, caring charity who'll do anything within their means to help put you back on your feet."
Meet Helen Nasra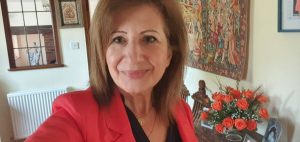 The RMBF's Guilds are an essential part of our charity, bringing people together to raise vital funds and spreading the word about our work. We recently asked Helen Nasra, who for the last 10 years has chaired our Isle of Wight Guild, about her experience volunteering and why the charity is so important to her.
"I've been part of the RMBF volunteer network for over 20 years. Through those long years, I've realised that raising awareness is as important as raising money for this charity: awareness among the community and the doctors themselves. Doctors, whose job it is to help patients and others, find it difficult to ask for help when they need it. Some doctors are not even aware that this kind of help is available to them.⠀
⠀
Being a surgeon's wife and part of the medical community, volunteering for the RMBF and running the Isle of Wight Guild has been an honour. It's been an absolute pleasure to organise so many activities that raise money and awareness, and I look forward to many more in the future."
Meet Hattie Coleman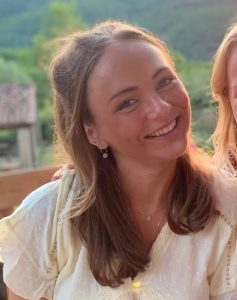 Since joining up last year, third-year medical student Hattie Coleman has never ceased to wow us. Alongside raising awareness about the RMBF through social media, Hattie has also taken part in fundraisers throughout the pandemic. Last April, she arranged a virtual running, walking and cycling challenge with a group of friends, who between them covered the distance from the UK to Australia. Hattie has also been involved with the Every Mile for Our NHS campaign, a national medical student fundraiser that raised over £8,000 for the RMBF, Cavell Trust and Doctors in Distress.
⠀
"Hi, my name is Hattie, and I am a third-year medical student at Barts & The London. I decided to become an RMBF volunteer during the first wave of the Covid-19 pandemic, after I'd organised a virtual distance challenge for the charity.⠀
⠀
Our wonderful friend Ottie would have been working as a doctor, and she had many great friends and family members in the NHS. We wanted to show our support in her memory, and it was a privilege to be part of an incredible team effort to cover 13,000km and raise over £11,000 in ten days. Friendship and support have been essential during a time when it is easy to feel distant, and I am so proud of our achievement for such a great cause.⠀
⠀
I was super-excited to be involved in the Every Mile Campaign. Another amazing opportunity to support the RMBF and healthcare staff who need our support, while also looking after our own wellbeing by getting outside with friends and maximising endorphins as exam season approaches. My favourite thing about being an RMBF volunteer is the encouraging sense of community at the heart of the charity."
Meet Conor Tuffs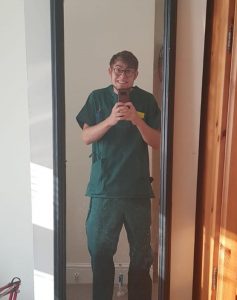 Conor joined the RMBF's volunteer network as one of the first medical student volunteers, helping to raise our profile among his fellow students in Exeter. For Volunteers' Week, Conor wrote a moving blog for us on why he feels so passionate about being an RMBF volunteer, drawing on his experience with childhood leukaemia and how it makes him feel even more connected to the charity.
"Because I and my family were supported medically and psychologically back into living a normal life, I was able to continue with school, GCSEs and A-levels. And continue to live my life pursuing the pleasures and goals that I always wanted to, resulting in training to be a doctor myself. It strikes me that the RMBF are doing almost exactly this for our working doctors and medical students, and their families.
In short – doctors supported me to not just survive, but live. If we support doctors and those in training, we're not only supporting them and their families, but their patients, their patients' families, and ultimately – life."
We are so thankful to Charlie, Helen, Hattie, and Conor for sharing their volunteering experiences with us.
Volunteering with the RMBF is very rewarding and can be adapted to suit your day to day life. If you would like to help us spread the word about our support to medical students and doctors, you can sign up here.