About me
Hello! My name is Zainab Afzal, and I am a medical student studying in the UK. I initially heard about the RMBF through my university. When I first learned about the charity, I was immediately drawn to its mission of supporting doctors and medical students in times of need. Having observed how demanding and stressful the medical profession can be, I knew that this was an important cause that I wanted to support.
Why I chose to fundraise for the RMBF
The RMBF provides a range of services to support doctors and medical students in hardship, all of which have proven to be largely valuable to individuals who are struggling with the pressures of the profession. From financial assistance to mental health support and career guidance, the RMBF offers a lifeline to those who may not have other sources of help. I decided to volunteer for the RMBF charity because I wanted to make a difference in the lives of these individuals.
As someone who is familiar with the challenges of navigating the medical profession, I wanted to be able to provide some support and encouragement to those who need it most. Whether it's providing financial assistance to help someone through a difficult time or connecting them with a mental health professional who can provide support, the RMBF charity is truly making a difference.
My experience
I really enjoy baking in my spare time, and so I was thrilled to find a way to make use of my skills in a way that would allow me to support the medical community. Conducting a bake sale to raise money for the RMBF was the perfect opportunity for me to contribute my skills towards a meaningful cause. It was a welcome break from my usual routine, and I found the process of baking to be quite calming and therapeutic.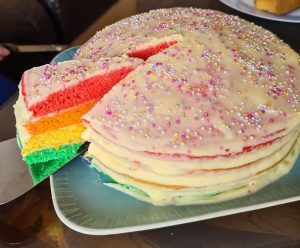 I thoroughly enjoyed the experience as it not only did it allow me to engage in one of my favourite hobbies, but it also gave me a sense of purpose and fulfillment knowing that the proceedings would benefit such a worthy cause, making a difference in the lives of doctors and medical students in need of support.
Overall, I found the experience of fundraising for the RMBF to be incredibly fulfilling, and I am grateful to have had the opportunity to contribute to such an important cause and spread awareness of their role in supporting the medical community.
Becoming a volunteer
Following my experience in fundraising for the RMBF, I have chosen to sign up as a volunteer for the RMBF and I look forward to fundraising more in the near future to continue supporting this cause and their essential role in supporting others within the medical profession.
If you are looking for a way to make a positive impact in your community, I would definitely encourage you to consider volunteering for the RMBF charity. There are so many ways to get involved, and every contribution goes a long way. Together, we can support doctors and medical students and ensure that they have the resources they need to thrive!
Thank you Zainab for baking such beautiful cakes and helping raise awareness and funds for doctors and medical students in vital need of help.
Get involved