One of the most effective ways to combat stress and burnout is to take breaks and switch off – both throughout the day, and for longer periods of recovery.
For doctors, of course, this can be easier said than done. But it is precisely because doctors are so busy that time to decompress is so important.
Acacia Retreat was created by Hampshire-based GPs Dr Sandy Miles and Dr Sam Powell (below), and aims to offer space to stop, breathe and relax for doctors who feel overwhelmed by the demands of medical life. Both say they benefited from this kind of getaway during challenging times in their own medical careers, inspiring them to work together to create the retreat.
Hosted at a peaceful riverside cottage, the three-day retreat involves art, music and literature, gentle exercise and nutritious meals. Sandy and Sam offer one-to-one coaching sessions, and advice on using neuro-linguistic programming and other psychological support techniques. Most importantly, there is plenty of time for rest and reflection. The retreats have also now been accredited for CPD.
"Sam and I have both been affected by stress and burnout during our medical careers, and we were both greatly helped by going on a retreat. We wanted to support our colleagues in their search for a well-balanced life," says Sandy.
Sandy and Sam have kindly made a donation to the RMBF, and also plan to donate profits from future retreats to support doctors in hardship. We're so grateful for this kind support, which will make a significant difference to the lives of medical families in serious need.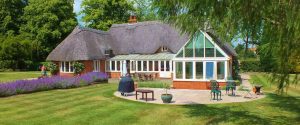 "We're really passionate about doctors' wellbeing, so it's great to see that the RMBF has developed its wellbeing support, with services like DocHealth, Righsteps and the Advice Hubs," says Sam. "It's reassuring to know that not only do our donations provide crucial financial support through crisis, but they also help doctors to look after their wellbeing and hopefully avoid reaching that crisis point in the first place."
---
If you are involved in running a company, course, or programme that aims to improve doctors' wellbeing, including a fundraising ask for the RMBF is a great way to increase your impact. We can provide top fundraising tips, as well as information resources and promotional materials for your customers or attendees. Our team would love to hear from you – please email [email protected].
Header photo by Stefan Cosma on Unsplash