Dear friends,
It has been another extremely challenging year for the medical profession, with uncertainty rife and workloads always demanding. Through it all, doctors and NHS staff have continued to do quite incredible work, providing the best possible care for their patients in circumstances that are still far from ideal.
The vaccination programme continues to progress, and we can have hope that things will get better in time. But for the moment, there is still a tough road ahead. That's why I'm asking for your support to help doctors, medical students, and their families in hardship this winter.
The long-term effect that this pandemic will have on the medical profession is beginning to show.
The figures from DocHealth, the confidential psychotherapy service that we fund together with the BMA, give the sharpest picture of the pandemic's impact. During the past year, this service has helped 392 doctors with personal and mental health issues including bereavement, stress, anxiety and depression. That is by some margin the biggest yearly figure since the service was launched in 2016.
Last year, more than 50 doctors received help to remain in work or return to work. Hundreds more accessed online support via our website advice hubs and our Rightsteps wellbeing resource. And you helped to provide 287 people with financial support, money advice and coach mentoring.
The mental health impact of the pandemic is already evident, and very likely to grow. Moral injury and post-traumatic stress disorder are real concerns.
You may have seen the shocking headlines about the rise in domestic abuse during the pandemic.
Unfortunately, we know from the cases coming through our Grants & Awards Committee that doctors are just as at risk of domestic violence as anyone else.
Nobody should have to experience domestic abuse. But for doctors who have, your support can be crucial.
The added burden of money worries can be overwhelming for doctors facing such distressing situations, so the financial support that your donations provide can make an invaluable impact.
Despite all the challenges that Covid-19 has presented, one small silver lining is that many doctors say they feel closer to their colleagues than ever before. Sadly though, even when colleagues are looking out for each other, some stigma remains around asking for help, and many doctors suffer in silence.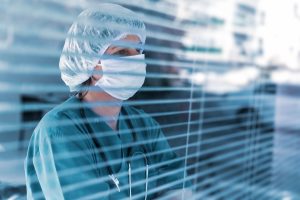 I can see how it happens. Imagine how you might feel if, after years of medical education and of hard work as a doctor, you were suddenly struggling to pay the bills and put food on the table for your family – through no fault of your own. It must be so demoralising.
But thanks to the work of our incredible volunteers, we can reach out to doctors and medical students who are facing hardship, and help them to take that first step and ask for support.
And thanks to you, and thousands of supporters like you, we are able to respond with empathy and understanding, providing a package of help that is tailored to a person's unique situation.
We know that the right help at the right time can genuinely turn someone's life around.
Most of the doctors who come to us for help just want to get back to doing what they love: caring for patients. That's why our back-to-work support – which we have been able to develop significantly in recent years, with your help – is so vital.
One beneficiary, a GP trainee who was returning to work after a period of sick leave, told us:
This support has been invaluable in providing the stability that I needed at a very challenging and difficult time. I am very much looking forward to returning to work, contributing to the profession that I always wanted to be in, and putting back into society by working in an inner-city GP role.
We really are very fortunate to have the opportunity to do this job, and very fortunate indeed to have people and organisations like the RMBF in the wings supporting us in times of real personal difficulty. Many thanks indeed.
When the right support is available, and doctors are able to recover after an unexpected setback, it benefits everyone. And that is true now more than ever.
So what comes next for doctors, medical students and the NHS?
The backlog of "non-urgent" care – which of course becomes more urgent as time goes on – is just one really challenging obstacle the NHS faces. Education and training for medical students and junior doctors has been badly affected, disrupting the usual progression of clinical skills and experience.
It is hard to predict how severe the flu season may be this winter. And although Covid-19 is set to become endemic, and we hope to see a significant fall in infections and severe illness, there will still be many patients to care for.
It is a long list of challenges, which will demand resilience, optimism and perseverance from everyone working on the frontline. But those attributes are not in limitless supply, and now more than ever, there needs to be support on hand for when things go wrong. Together, we can provide that crucial safety net.
Please donate today, and give a helping hand to doctors who have themselves given so much.
Many thanks and warmest wishes,
Professor Sheila the Baroness Hollins
RMBF President
P.S. I wanted to leave you with a few words from a supporter, who sent us this lovely message alongside their last donation.
It can feel very lonely for a doctor who is not coping. This is my way of providing a little help.